MUNKHOLM & ZHANG CONSULTING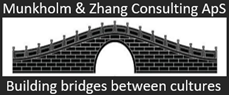 Munkholm & Zhang Consulting provide services including general consulting, interim positions, supplier relations, sourcing, sales, market investigations, product inspection, supplier search and audit, participation in exhibitions, etc.
The company has a rich experience in business development, greenfield projects, contract negotiations, market investigations, etc. across a wide range of industries including aluminum, plastic, wind turbine, oil & gas, fibers, hardware, and much more.
Munkholm & Zhang Consulting is run by Kjeld Friis Munkholm, a Danish native, who has been living and working permanently in China since 1998, at locations such as Shanghai, Guangzhou, Beijing, and Suzhou.
Kjeld Friis Munkholm 孟可和
CEO & Owner
Munkholm & Zhang Consulting Shanghai
Mobile:  +86 139 1695 4596
WeChat: KFmunkholm
Email: kfm@munkholmconsulting.com